Reduce your emissions today by changing your valves
Ever wonder how much gas you have lost throughout the years because of the emissions that happen every time you disconnect a hose from a valve? It adds up, believe us. In many cases, several litres of gas are released into the air because it was trapped in the hose or connector when it was disconnected! The result is an annoying loss of product and therefore also profit.  Of course, we wouldn't be talking about this if we didn't have a solution. RegO has designed a line of low-emission products, which all help to keep unnecessary emissions to an absolute minimum. KC ProSupply is pleased to bring you this series of exquisite products.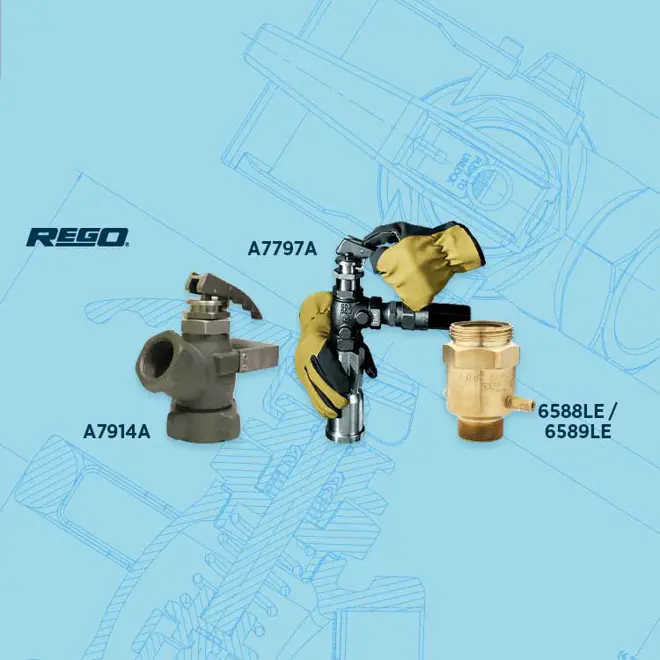 Minimal product discharge

Long service life

High safety

Instant full-on flow

Easy to operate
Hose end valves: RegO A7914A and A7797A
These hose end valves are specifically designed to minimise the amount of gas that is emitted upon disconnection of bobtail and transport loading hoses. In fact, these valves can bring emissions down to less than two cubic centimetres - a vast reduction compared to more traditional setups.
The new A7914A replaces a globe valve and 3¼'' ACME adapter. Although efficient at reducing emissions on its own, the A7914A hose end valve should be used in combination with RegO filler valves no. 6588LE or 6589LE, shown on the right side of the picture above, in order to fully benefit from its emission-reducing potential. With these valves combined, your emission will be almost non-existent - great news for your profits and the environment!
These top-of-the-line valves open and close with a self-locking handle that helps prevent them from being opened accidentally. Their contoured handle rotates 360° on a large ACME swivel connector that makes operating them a smooth and comfortable experience.  When the release trigger is pressed and the handle is lifted, the valves provide instant full-on flow, while lowering the handle will immediately and completely stop the flow.
On the inlet side, a protective screen is in place to prevent debris from entering the valves. Inside, the valves are fitted with spring loaded Teflon V-packing that ensures a long service life and leak-free operation.
If you are tired of feeding gas to the clouds, call or e-mail your nearest KC ProSupply centre and inquire about RegO low emission products.
Learn more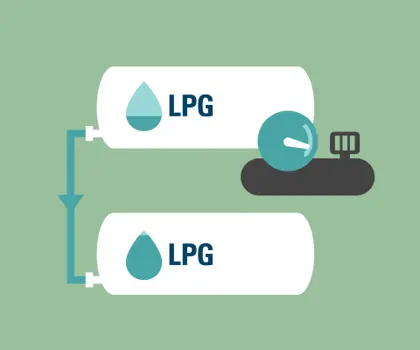 How does a compressor work?
Here you find a quick, three-step overview that shows the basic principles of vapour and liquid transfer with a compressor.
Check it out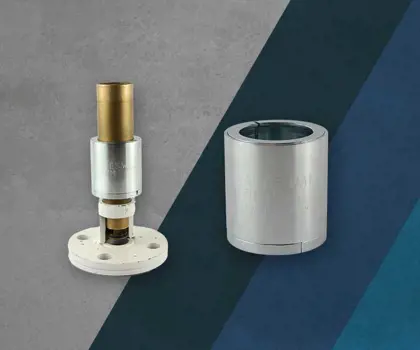 Avoid accidental valve ejections with the Safeswap
Human error has caused accidents during many pressure relief valve exchanges. With the Safeswap, these accidents are a thing of the past.
See how it works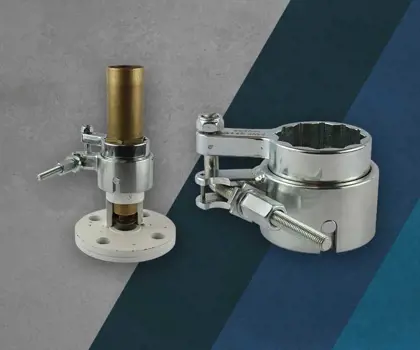 The easiest way to loosen overtightened valves
Overly tightened valves in confined spaces are both frustrating and dangerous. That's why we invented the relief valve cracking tool.
Get cracking today